Step by step procedure to manage/create product with single option type
Qoo10 Marketplace has two option types,
Single Option - We have recently introduced this option and this will help assign single option type for individual Product/Kit/Group. If you have assign multiple option types for product then buyer can select single option type and buy the product and need not have to apply all option types for purchasing the product.
Combination Option - This is a existing option type applicable for group/variation products. Here if multiple option types are assigned for group products then while purchasing the item buyer need to select value from drop down of each option type. Click here to know how to create group/variation
Here are the steps to apply single option type for individual product/Kit/Group
Login to SelluSeller and go to the Catalogue tab. Then, navigate to +Actions button and click on the Add Product tab.
2. Search for the iSKU to check if it already exists. If not, generate new iSKU. Note:- iSKU (Inventory Stock Keeping Unit) is a unique code assigned to every product to identify inventory assigned to the product.
3. Enter all details of the product in the Basic Information area. You can view images dimensions, acceptable format and limitations while uploading images.
4. You can simply drag & drop images on to the Product Images section. Alternatively, you may click on the browse button to upload images from your local system.

5. Select all the marketplaces on which you wish to list the product by ticking the relevant check boxes and click on the Proceed button.
Note-
Click SAVE if you want to save the product's details and list it on the marketplace later.
Click DISCARD if you do not want to list the new product and delete the details.
6. Once you click on proceed, you can view marketplace details page and all the selected marketplaces. Here, you can select more marketplaces by clicking on Select Marketplace button.
7. Select category and fill out all the details of your product specific to that category.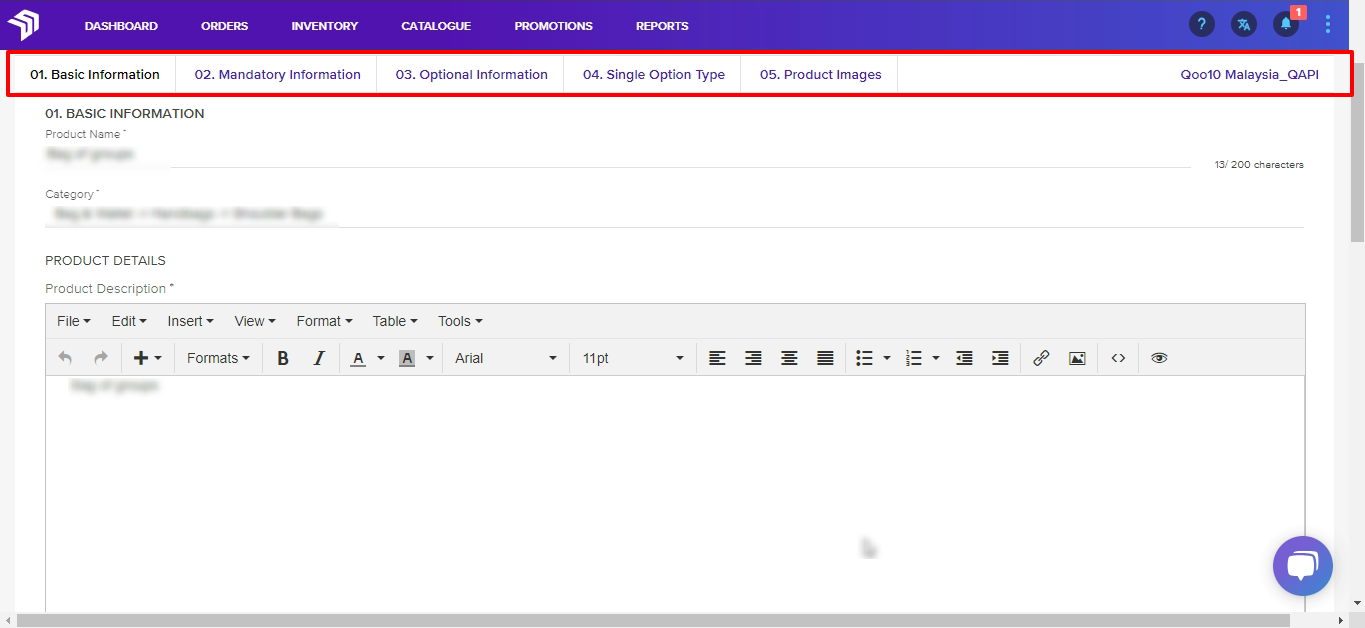 Note: You can also edit the category for products that have been fetched from the marketplaces.
8. While adding product descriptions, you can view the maximum allowed character and the supported format (for e.g. HTML).
9. Once you have entered Basic information and mandatory details then you can select or create single type option for your product.
Select existing option type:
i) Click on Add/Edit Option type
ii) Select existing option type from the drop down and click on Add
iii) Enter required details like Option Details, MRP, and add variants for single option type and click on Save
i) Click on Add/Edit Option type

ii) Click on Add new option type for creating new option type
iii) Enter new option type details and click on Add
iv) It will get added in drop down then select newly created single option type from drop down and click on Add button.
v) Enter all the details like Option Details, MRP, and add variants for single option type and click on Save
10. Once you click on save the single option type added by you will be available
11. Then you can list the product on respective marketplace by clicking on SAVE and LIST button
12. Once product listing is completed, you can view the product state for respective marketplaces.
Note: If you want to delete a one or two added variations from single option type you can delete it from SelluSeller and click on update and it will reflection on Qoo10
However if you want to delete all added variations from from single option type then you need to delete from Qoo10 (QSM) seller center
Hope this answers your question!